Jill Chanley (MSGH'16) and Blythe Beecroft (MSGH'16) Meet Virtually With Students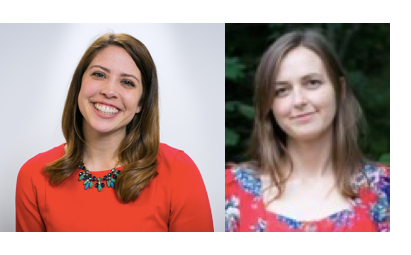 Posted in News Story
In April 2020, MSGH alumnae Jill Chanley '16 and Blythe Beecroft '16 met with current students via Zoom. The two graduates shared some of their experiences in the program – especially the Field Research Module, which they pursued together at l'Institut Supérieur des Sciences de la Population in Ouagadougou, Burkina Faso. Using the same data set collected in Ouagadougou, they pursued different projects and reached different findings. Jill's paper explored contraception use and access among young female migrants, while Blythe's paper investigated inequalities in childhood vaccinations across formal and informal neighborhoods.
Jill and Blythe learned a lot about resiliency from the experience in Burkina, as their research was interrupted by a coup d'état in September 2015. After evacuation to Washington, they returned to the continent later that semester, completing their field research project at the Navrongo Health Research Centre in northern Ghana. The two alumnae emphasized the importance of the Biostatistics and Research Methods courses in preparing them for the field, as well as the approach of "shaping" their research experience once arriving at the host institution. In terms of the latter, Jill and Blythe sought opportunities to participate in data collection and institutional activities as a way of building relationships and gaining familiarity with local communities. They noted that this is especially important if a student is conducting research using secondary data.
The two alumnae also shared their experiences in searching for a job after graduation. Jill secured a position at the Global Health Advocacy Incubator and the Campaign for Tobacco-Free Kids, where she completed an internship as a graduate student. Blythe observed that, in some cases, it is normal for some time to pass before a MSGH student is hired. For her, that opportunity came two months after graduation, when she was hired by the National Institutes of Health (NIH).
For both Jill and Blythe, Georgetown faculty connections led to their current jobs. Jill's current work as Policy Advisor at the Population Reference Bureau (PRB) was facilitated through a former Georgetown faculty member, Dr. John May, in 2018. Blythe's position as Global Health Research & Policy Analyst at NIH's Fogarty International Center, was enabled through a reference by the MSGH Program Director, Dr. Bernhard Liese, in 2016.
Jill observed that there are three main branches within the global health space: Program, Policy, Research. She encouraged the students to remain open to all three as they emerge from graduate study: "It's important to keep an open mind; I did not expect to be working in policy!"
At PRB, Jill focuses on youth-friendly family planning services and strategic communications for family planning and reproductive health policy change. Jill's responsibilities are very much related to her field research topic, which was a subject of interest during her job interview. Blythe, too, works on policy issues. Within Fogarty's Center for Global Health Studies, her portfolio includes projects covering health research in humanitarian crises, emergency care research in low-and middle-income countries, the integration of HIV/NCD platforms and care, and implementation science in the global context.
Both alumnae reported that the program prepared them well for their careers. In particular, Jill and Blythe determined that their field research experiences were appealing to prospective employers. Hiring managers found their soft skills (e.g., cultural competency) and project management abilities (e.g., designing a research project) valuable.
In closing, Jill and Blythe emphasized networking as an important activity in establishing oneself in the professional world. This is especially true in Washington, DC! Building connections and cultivating relationships can be immensely useful in the initial job search, but also throughout one's career. They added that informational interviews can be highly effective, and can lead to an organic reference at an institution. The current period of COVID-19 isolation can be a good time to contact individuals for this purpose – as well as pursuing "virtual" internships, even if they are unpaid. Jill suggested that students can guide their job searches by maintaining a list of interesting and inspiring organizations.
We are grateful to Jill and Blythe for their willingness to participate in our Alumni Conversation Series!
To learn more about Blythe's work at Fogarty International Center (NIH), click here to view her feature in the "Meet Our Alumni" section of this website.