Program Faculty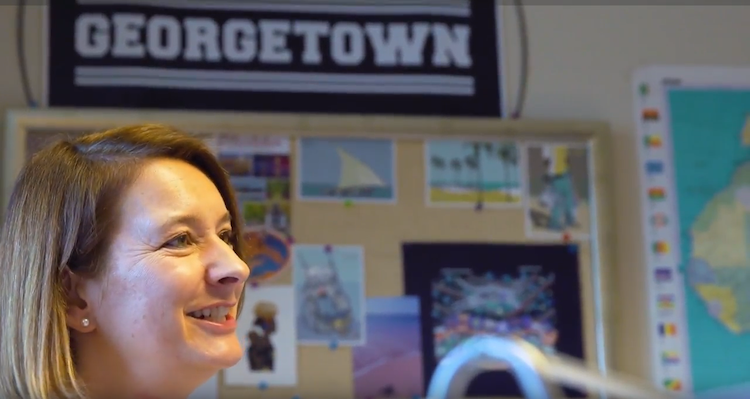 Director
Bernhard Liese, M.D., D.Sc., M.P.H.
Bernhard Liese is chair of the Department of International Health at Georgetown University School of Nursing & Health Studies. He has more than 30 years of experience in the field of health and development. His area of concentration are governance and organization of global health partnerships, particularly disease-related ones, and the effects of globalization on health. Prior to joining Georgetown, Liese had a long career at the World Bank, working in senior policy and management functions including, director of the health services department, senior advisor for human development, operations advisor, and principal tropical disease specialist. He was deeply involved in establishing health lending at the World Bank and also was the organization's representative for several of the large multi-donor global health programs. During a two-year secondment, he worked with UNDP's Global Health Program as senior advisor on HIV/AIDS. Prior to joining the World Bank, Liese worked for several years as health project manager and director of a nursing and midwifery school for the Ministry of Health in Cameroon. Later, he was in charge of the Health Policy Desk in the Federal Ministry of Health in Germany. He holds an M.D. and a D.Sc. from the University of Bonn and an M.P.H. from the Harvard School of Public Health.
---
Faculty
Peter Bachrach is an adjunct instructor in the Department of International Health at Georgetown University School of Nursing & Health Studies. He specializes in health planning and financing and has other interests in health policy and sector reform, strategic program planning, sector resource management, and monitoring and evaluation. Before joining the Georgetown faculty, he worked for more than 35 years as associate director of health programs for an international NGO and as a freelance consultant. He has lived in Cameroon and Mali and has consulted for multilateral and bilateral aid agencies, government ministries, and non-governmental organizations in 35 countries in Africa as well as in Southeast Asia. He was previously an adjunct professor in the School of International and Public Affairs at Columbia University. He has an M.A. from the University of Wisconsin-Madison.
Jennifer Huang Bouey is an associate professor and a social epidemiologist in the Department of International Health at Georgetown University's School of Nursing & Health Studies, where she currently teaches both undergraduate and graduate courses in epidemiology and global health research methods. In her two decades long research career, Bouey has applied both qualitative and quantittative methods in many HIV prevention and health services studies among the marginallized populations in U.S. and China. Her extensive portfolio of peer-reviewed publications focuses on health equity barriers among rural-to-ruban migrants, immigrants/refugees, low income African American women, and sexual minorities. Her scholarly work has been supported by funding from Susan Mayer Professorship Endowment, DC Center for HIV/AIDS Research, National Institute of Health, U.S.-China Diaglogue on Global Issues Initiatives, and Maternal and Child Health Bureau of HRSA. Dr. Bouey is also a Global Health faculty fellow at the Center for Social Justice between 2017 to 2020.
Kerry Bruce is an adjunct professor in the Department of International Health at Georgetown University's School of Nursing & Health Studies, where she currently teaches graduate courses for the M.Sc. students in mobile technology for health, implementation science and monitoring and evaluation. Dr. Bruce is an active practitioner in the field of public health. Currently she serves as the Executive Vice-President for Social Impact Inc, a 200+ person monitoring and evaluation firm in the Washington area. She provides technical leadership in health (HIV, MCH, FP, WASH, TB) and other topic area evaluations. Previously, as the Senior Director for Global Health and Measurement for Pact, she was responsible for a team of 9 technical staff providing support to more than 20 country programs in Africa, Asia and Latin America. Pact's projects focused on HIV, maternal and child health and community health. She also headed the monitoring and evaluation function for the organization. Before joining Pact she was the Country Director for ICAP at Columbia University in Swaziland, directing the implementation of a clinical ART care and treatment program and multiple research projects. Dr. Bruce has lived for more than a two decades in Asia and Africa working in public health. Her courses and research aim to equip students with immediately applicable skills in the field of international health.
Willy De Geyndt holds a Ph.D. degree from the School of Public Health and an M.S. degree from the School of Management both at the University of Minnesota, a B.A. in education from his native country Belgium, a Fulbright scholar in the US (New York State University) and a certificate from the Sorbonne University in Paris. He is currently an adjunct professor in the Department of International Health at Georgetown University School of Nursing & Health Studies, and a frequent consultant to the World Bank and bilateral agencies. Prior to his present appointment, he served as lead health specialist at the World Bank, adjunct professor at the George Washington University School of Public Health, and associate professor at the School of Public Health of the University of Minnesota. His most recent analytic work and publications deal with autonomy of public hospitals in developing countries, pandemics preparedness and response, and applying research methods to health care services delivery. His previous publications analyzed a wide range of health and development issues with a special interest in measuring and improving the quality of care.
Anca Dragomir is an Associate Professor in the Department of Oncology, with a secondary appointment in the Department of Biostatistics, Bioinformatics and Biomathematics.  Dr. Dragomir also has an honorary faculty position at the Parker Institute, Copenhagen University Hospital, Frederiksberg, Denmark. While at Georgetown, she has served as the Epidemiologist for the Breast and Colon Cancer Family Registries Project, a large NCI contract awarded to the Innovation Center for Biomedical Informatics at the Georgetown Lombardi Comprehensive Cancer Center (LCCC). She has also served as the Director of the Clinical and Molecular Epidemiology Shared Resource at LCCC. The publication record of Dr. Dragomir includes 20 peer-reviewed publications and more than 40 abstracts presented at national and international conferences. She has more than fifteen years of work experience as an Epidemiologist, including subject recruitment, questionnaire design, data collection, biospecimen collection/storage, biomarker measurement and evaluation, epidemiological analyses, and manuscript preparation. Dr. Dragomir has a Ph.D. degree in Epidemiology from the Gillings School of Global Public Health, UNC at Chapel Hill. She also holds a graduate degree in Mathematics from the West University of Timisoara, Romania. She has been awarded both a predoctoral and a postdoctoral NIH Intramural Research Training Award fellowship. 
Eva Jarawan is a public health specialist and operations manager with over 35 years of experience in international development, including 25 years at the World Bank. She held several leadership positions at the World Bank, including: Sector Manager for the health program in sub-Saharan Africa, Human Development Manager for health, education and social protection for West Africa; and Lead Health Specialist and Operations Advisor for The Middle East and North Africa and for East Asia and the Pacific regions. She has more than 12 years of experience in the academic field teaching graduate and undergraduate public health and global health students. Prior to the Bank, Dr. Jarawan held academic positions in the department of Health Services Management and Policy at the University of Michigan's (UM) School of Public Health in Ann Arbor, and the department of Health Care at UM's School of Health Sciences in Flint, and at the department of Health Services Administration at the American University of Beirut. Since retiring from the World Bank in December 2014, she was appointed as an Assistant Professor in the Department of International Health at Georgetown University where she teaches Comparative Health Systems, Health Policy, Control of Non-Communicable Diseases in developing countries, and Internship in International Organizations. Dr. Jarawan holds a Ph.D. in Business Administration with a major in Health Administration and a minor in Management, an M.B.A. from Georgia State University, and an M.P.H. from the American University of Beirut.
Matthew Kavanagh is a visiting professor at the Georgetown University Law Center and director of the Global Health Policy and Governance Initiative at the O'Neill Institute. He serves as an Adjunct Professor in the Department of International Health. Dr. Kavanagh's research and policy work focuses on the drivers of access to healthcare and medicines in low- and middle-income countries and the impact of human rights and constitutional protections on health outcomes. Kavanagh currently serves on the Scientific and Technical Advisory Committee for UNAIDS, as an advisor to the Health Global Access Project, and has previously advised the WHO, U.S. State Department, and various NGOs on human rights and global health policy. As a social scientist, Dr. Kavanagh uses both qualitative research methods and large-N statistics to understand how governance institutions help or hinder advancement of population health – with recent empirical field work in South Africa, India, Malawi, Lesotho, and Thailand. His policy work seeks to address these governance challenges and has included leading transnational efforts focused on access to HIV treatment, community participation in global health programs, international trade, financial industry regulation, and water rights. This work has included drafting legislation introduced in the U.S. House of Representatives; presenting before the U.N. Special Rapporteur for the Right to Health, Members of Congress, and the U.S. Trade Representative; and leading a successful policy change effort that secured expanded HIV treatment access in East and Southern Africa. Kavanagh earned a Ph.D. in political science from the University of Pennsylvania, a certificate in health law from Penn's law school, a Master in Communities and Policy from Harvard University, and a B.A. from Vassar College.
John F. May is a specialist in population policies and programs, with a worldwide experience of over 35 years. He has worked on many population projects for the World Bank, UNFPA, UNICEF, USAID, the Population Reference Bureau (PRB), and the International Union for the Scientific Study of Population (IUSSP). He earned a B.A. in modern history (1973) and an M.A. in demography (1985) from the Catholic University of Louvain (Belgium), and he received his Doctorate in Demography summa cum laude from the University of Paris-V (Sorbonne) in 1996. He is the author of World Population Policies: Their Origin, Evolution, and Impact (Dordrecht, NL: Springer, 2012), which has received the 2012 Global Media Award of the Population Institute for best book on population. He also co-edited the book Africa's Population: In Search of a Demographic Dividend (Cham, CH: Springer, 2017).
Marta Molares de Halberg is an Argentine attorney with over 30 years of World Bank project finance and development experience, including extensive work on projects in the health sector addressing in particular the role of institutions, and the international and domestic policies that determine or have an impact on the access of quality and affordable medicines. In the field of access to medicines her knowledge and experience covers among others the intricacies of the evolving intellectual property and trade regimes, and medicines manufacturing, pricing, procurement and distribution policies. Her extensive project work has also dealt with the human rights implications of health policies. Molares de Halberg earned her J.D. from Universidad de El Salvador (Buenos Aires, Argentina) and her L.L.M. and M.M.A. from the University of Washington.
Vincent Turbat started his career as a junior lecturer (and researcher) in economics in the French University of Saint Etienne in 1972. During his 19 years in different French universities, he shared his time between teaching and researching, mostly in macroeconomics, growth and development, and health economics. He joined the World Bank in 1991 as a Health Economist to develop and deliver learning programs for the health sector in health financing, health sector reform, pharmaceuticals, HIV/AIDS prevention and care. In 1996, he joined the operations of the World Bank, first in East Asia, then in Sub-Saharan-Africa. From 2003 to 2006, he was the World Bank Country Manager for Niger, based in Niamey. He retired from the World Bank in 2010 to go back to teaching health economics to graduates and undergraduates at Georgetown University, Department of Global Health. His current research focuses on the Demographic Dividend and health financing. He is also consulting for different organizations. Vincent Turbat holds a Ph.D. in economics from the University of Aix-Marseille II (1977, highest honors), a DES (pre-doctoral) in economics from the University of Paris I, Pantheon-Sorbonne (1972, honors) and a Masters in economics from the University of Orleans (1970, honors).
Myriam Vučković is an assistant professor in the Department of International Health at Georgetown University's School of Nursing & Health Studies. From 2001-2006 and then again from 2009-2012, Dr. Vučković worked for the German development organization GIZ in the field of reproductive health and HIV/AIDS control, at their head office in Germany, as well as for three years in Dar es Salaam, Tanzania. As a former long-time member of the German delegation to the board of the Global Fund to Fight AIDS, Tuberculosis and Malaria (GFATM), Dr. Vučković has gained in-depth knowledge of international partnerships and policies in the field of HIV/AIDS, TB and malaria control. Dr. Vučković regularly teaches several of the department's core courses, including Introduction to Global Health, Maternal and Child Health in Developing Countries, and International Health Promotion. Since the fall of 2012, she is also teaching a global health elective on urban health issues in developing countries. Dr. Vučković is a graduate of the University of Kansas (Ph.D., 2001) and the London School of Hygiene and Tropical Medicine (M.Sc.P.H., 2010) and holds further degrees from the University of Wyoming (B.A., 1992) and the Ludwig-Maximilians-University in Munich, Germany (M.A., 1995).
Wu Zeng, a health economist and physician, is an Associate Professor in the Department of International Health at Georgetown University. He has more than 15 years of experience of conducting research on health care systems, health financing, and cost-effectiveness analysis in both developed and developing countries. His research has concerned comparative evaluation of policies, programs, and interventions in improving access and utilization of health services, and health outcomes, as well as associated resources. Another research interest focuses on examining fund flow in the health care system to identify efficiency gaps to promote the efficiency of programs. He has conducted research in about 20 countries, and received funding from the World Bank, USAID, UNAIDS, the Gates Foundation, the Centers for Medicare & Medicaid Services, and the Robert Wood Johnson Foundation. Dr. Zeng received his M.D. degree from Fujian Medical University (China), and holds M.S. and Ph.D. degrees from Brandeis University.