Valencia Waller '19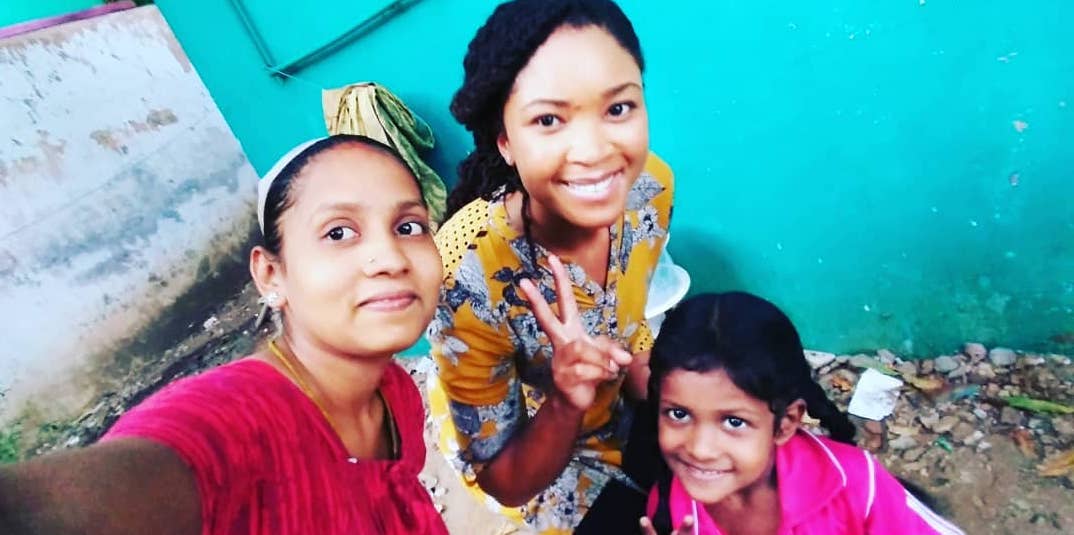 Research Associate – Acute Care Research Unit (ACRU), Institute for Healthcare Policy and Innovation – Michigan Medicine
What sparked your interest in Global Health, and how did you hear about the M.S. in Global Health program?
At the time, I was considering medical school and a number of different health research graduate programs (e.g., MPH, M.S. in Epidemiology, M.S. in Health Services Research, etc.) when a former colleague invited me to attend an M.S. in Global Health info session. I was immediately drawn to the program's interdisciplinary curriculum and field research module. The rest is history. I knew that I would gain the theoretical and boots-on-the-ground research experience that would advance my research skills in a way that would make me competitive in a steadily evolving workforce.
How would you depict the classroom instruction?
I appreciated the intimacy of the smaller class (and cohort) size within the M.S. in Global Health program. I looked forward to most of my courses because I knew that discussions would be engaging and lively and that any questions I had regarding assignments would be answered right away. I especially enjoyed Health Policy and Systems and Combating Non-communicable Diseases (NCDs) with Professor Eva Jarawan and Policy Analysis with Professor Matthew Kavanagh. As far as courses whose content I probably use on a near daily basis: research methods and biostatistics.
Where did you complete your field research module and what was your project?
During my placement interview, I expressed to the department my interest in conducting primary research with field/lab components, which led to me completing my field research module at the Vector Control Research Center (VCRC) in Pondicherry, India. There, I studied the prevalence of Wolbachia, an endosymbiotic bacterium, in different mosquito species of Tamil Nadu, India. Wolbachia are bacteria with the ability to reduce the number of viable offspring in arthropods (e.g., spiders, ticks, mites, mosquitoes, etc.) and nematodes (i.e., roundworms) via an array of reproductive mechanisms, but mainly cytoplasmic incompatibility (CI)—a phenomenon whereby Wolbachia-infected male mosquitoes that mate with uninfected females of the same species produce mostly inviable eggs. The result is the same when male and female mosquitoes infected with different strains of Wolbachia mate, meaning there is a way to reduce mosquito populations and thus, the spread of mosquito-borne diseases without the use of chemical pesticides. Really interesting stuff!
What did you learn from your experience abroad?
I learned a great deal during my three-month stay in India. My colleagues at the VCRC—especially my fellow Parasite Genomics lab technicians and Directors (one retired during my visit)—were incredibly knowledgeable and supportive of work. I do recall that the first month, during which I was tasked with developing my research topic, was an uphill battle. This was mostly due to the vast array of potential vector control research topics I could explore and series of approvals required before I could start. That process in particular taught me the value of professional relationship building, being (respectfully) persistent, and knowing how to conduct a solid literature review! Beyond this, I especially liked the lab work during which I learned how to identify, collect, and handle different species of mosquito, run standard and nested PCR, extract and purify DNA, and sequence genetic material for species identification. Finally, I thoroughly enjoyed the time I spent interacting with local residents and setting traps to collect mosquitoes in the urban and suburban villages of Tamil Nadu. I wasn't too fond of the heat and humidity (usually over 100℉), but the culinary delights in India were epic!
How have your Global Health studies and field research informed your current professional pursuits?
I currently serve as a Research Associate for the Acute Care Research Unit (ACRU) in partnership with the Institute for Healthcare Policy and Innovation at Michigan Medicine where I conduct research on acute care utilization, quality, and effectiveness and consider how healthcare delivery in one setting can impact others. I cannot express enough how much the M.S. in Global Health program prepared me for my current professional pursuits. Biostatistics, epidemiology, health policy, and research methods, in particular, are courses that have been invaluable in my daily application of quantitative, qualitative, and mix-methods health services research.
W​ould you recommend the program? What was special about Washington, DC?
Absolutely. I would highly recommend the M.S. in Global Health program for anyone who is interested in global health research. Adopting a global perspective (and knowledge base) has proven invaluable when it comes to health research—even if only applied local or nationally.
I'm originally from Detroit, Michigan. When I applied to the program, I had been living in Washington, DC for a few years. D.C. is a cultural, political gem. There is never a shortage of activities, events, happy hours (now even offered virtually) and opportunities to connect with some of the most influential people you will ever meet (including program faculty). Georgetown is such a charming area with a waterfront and hiking/bike paths galore. No matter what, you're guaranteed a picturesque place to study or unwind.