Sugy Choi '14
Data Analyst, National Center on Addiction and Substance Abuse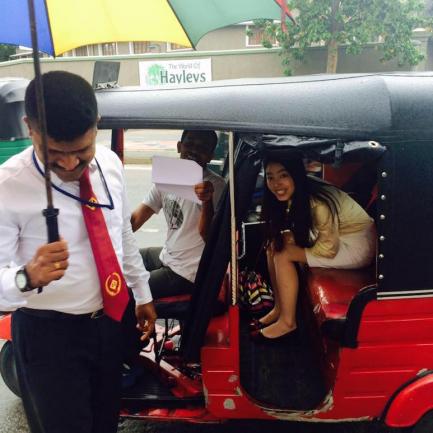 [Click here to listen to a podcast interview with Sugy, published in April 2019.]
What drew you to Georgetown's M.Sc. in Global Health Program?
After taking an elective course in global health research during college, I was intrigued by health development aid and diplomacy. I decided to apply for a Master of Science in Global Health, concentrating in Health Policy and Financing. I was attracted to Georgetown for its interdisciplinary curriculum and promise of advancing my research skills.
The program's multifaceted approach allowed me to accumulate a strong background in both methods and up-to-date contents. Many of the assignments were realistic training exercises: case studies in Epidemiology, running analyses in Biostatistics, writing proposals in Research Methods, authoring policy memos in Health Systems, and analyzing programs/projects in Monitoring & Evaluation.
Where did you complete your field research module, and what was your project?
I completed my field research at the Western Pacific Regional Office (WPRO) World Health Organization (WHO) in Manila, the Philippines. I was part of the Malaria, Other Vectorborne, and Parasitic Diseases (MVP) unit, through which I participated in various regional-level meetings and dialogues, such as the Third Meeting of the Pacific Malaria Drug Resistance Monitoring Network, the WHO's Regional Action Plan for Malaria Control and Elimination in the Western Pacific Region, and the WHO's Global Strategy for Malaria: 2016-2025.
My research module was based on analyzing Vanuatu's first national malaria indicator survey (VMIS). I conducted descriptive analyses and extracted key findings for the scholarly paper. Overall, with political and resource commitment from the Government of Vanuatu and international community – particularly from donors and technical agencies like the WHO – the national malaria program had set policy and strategic direction towards control and elimination. The survey results show that Vanuatu has achieved low malaria prevalence and transmission despite limited coverage of malaria control interventions and integrated vector management activities.
What did you learn from the experience abroad?  
At WPRO, I learned the value of consulting countries to form evidence-based policies. Additionally, it was an eye-opening experience to learn how international bureaucracies work. The role and organization of the WHO challenged my notions of developing countries' infectious disease surveillance management. WPRO has the power to convene political leaders, relevant stakeholders, and technical advisors to assist member states. These consultations emphasized regional contexts in order to identify needs and interests. This approach diplomatically aligns global, regional, and country-level policy recommendations. At WPRO, I started to recognize ways to link research, public health strategy, available resources, and policy. I became motivated to pursue an advanced professional study in global and public health.
Personally, Manila was an adventure – from my daily commute in a jeepney or tricycle to volunteering with an NGO that assisted Filipino migrants affected by natural disasters. Everything about my field research experience in Manila was unforgettable!
What has been your career path since completing the program? 
I dove into field and policy research after earning my M.Sc. in Global Health. I returned to Manila as a consultant at WPRO, continuing a series of publications on malaria control in the Pacific Islands. After my consultancy, I harnessed field research and manuscript writing skills as a Research Associate at the JW LEE Center for Global Medicine, Seoul National University. In Seoul, I assisted multiple global health research projects, including evaluation of global health fellowships conducted by the Korean government. I had opportunities to work in developing countries, such as Vietnam, Tanzania, Rwanda, and others in Southeast Asia and Africa.
I currently work as a data analyst for the National Center on Addiction and Substance Abuse's health services unit. I analyze administrative data to evaluate government programs involving persons living with comorbidity and those receiving addiction and/or HIV treatment in New York.
My time on the Hilltop provided realistic training as a global health professional. Research and writing skills were particularly important for my professional growth. I recommend that students reach out to faculty members about potential collaborations – even when I was abroad, I was able to publish two manuscripts by working with a professor on her research projects!
What opportunities were afforded by attending graduate school in Washington, DC?
There are so many opportunities in DC! In addition to my graduate assistantship at Georgetown, I interned with the Institute for Reproductive Health and the United States Agency for International Development (USAID). In both organizations, I developed applicable quantitative and qualitative research skills involving populations with disadvantages.